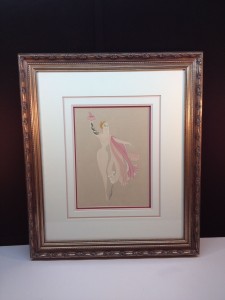 Visit current Ebay listingat Kelly in California.
This is an original gouache on paper executed by famous artist Erte in 1961 of a woman in a stylish dress, designed for the Moulin Rouge in Paris. The title is 'Paris 1961' and it is hand signed by the artist at the bottom. Professional museum quality framed and matted by Pooser Galleries in Sacramento, CA. Ready to hang.
This Erte was purchased in 1987 by comedian Pat Paulsen who was on the original Smothers Brothers Comedy Hour in the late 1960's, as well as the revival series in the late 1980's. He was a comedian, Emmy Award winning TV star, "mock" presidential candidate (first run was 1968), winery owner (Pat Paulsen Vineyards), theatre owner, and stage actor. It was a gift to his daughter, Terri, who is offering this for sale.