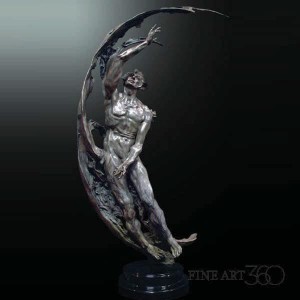 Visit current Ebay listingat Kelly in California.
This signed and numbered bronze 'Lunas' highlights M. L. Snowden's Stellar Sphere Group of the Celestial Array, and joins Polaris, Solaris, Heliocore, Meteorite and Sirius as an important progression in the art of lost wax bronze casting. Through the dramatic sculptures of the Stellar Sphere, the artist invites us to explore a series of deeply personal meditations upon the celestial nature of candescent bodies that directly impact planet earth and human perception.
Snowden's Stellar Sphere Group depicts the realization that 'Lunas' is a portrait of moonlight.  Her other sculptures, Polaris, is an exquisite energy map of the heart of the visible North Star; Solaris is a portrait of our Sun's radiant nucleus; Heliocore is a one–of–a kind evocation of a single light ray of the Sun; Meteorite explores a fiery celestial meteor entering Earth's atmosphere; Sirius evokes the light path of the bright star that inspired humankind's first calendar. The sculptures of Stellar Sphere form geological meditations upon sources of light visible within our immediate universe. It is a sculpture the eye revisits again and again as changing light sources upon Lunas divulge sequences of revelation.