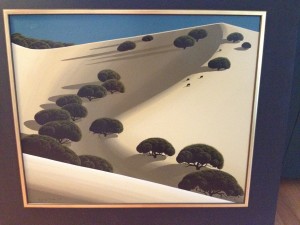 This original Eyvind Earle painting of California oaks trees sold for $6,000. It is signed by the artist and dated 1969. The frame was made by Earle himself, back in the days when he was making his own frames, around the 1960's & 1970's. Off to West Palm Beach, Florida it goes.
About Eyvind Earle:
Born in New York in 1916, Eyvind Earle began his prolific career at the age of ten when his father, Ferdinand Earle, gave him a challenging choice: read 50 pages of a book or paint a picture every day. Earle choose both. From the time of his first one-man showing in France when he was 14, Earle's fame had grown steadily. At the age of 21, Earle bicycled across country from Hollywood to New York, paying his way by painting 42 watercolors.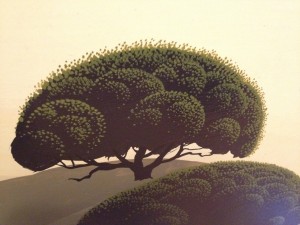 In 1937, he opened at the Charles Morgan Galleries, his first of many one-man shows in New York. Two years later at his third consecutive showing at the gallery, the response to his work was so positive that the exhibition sold out and the Metropolitan Museum of Art purchased one of his paintings for their permanent collection. His earliest work was strictly realistic, but after having studied the work of a variety of masters such as Van Gogh, Cézanne, Rockwell, Kent and Georgia O'Keefe, Earle by the age of 21, came into his own unique style. His oeuvre is characterized by a simplicity, directness and surety of handling.
After about 15 years creating animated art, Earle returned to painting full time in 1966 and kept working until the end of his life. In addition to his watercolors, oils, sculptures, drawings and scratchboards, in 1974 he began making limited edition serigraphs. Eyvind Earle had a totally original perception of landscape.
He successfully synthesizes seemingly incongruent aspects into a singularly distinctive style: a style, which is at once mysterious, primitive, disciplined, moody and nostalgic. He captures the grandeur of simplicity of the American countryside, and represents these glimpses of the American scene with a direct lyric ardor. His landscapes are remarkable for their suggestion of distances, landmasses and weather moods. "For 70 years," Earle wrote in 1996, "I've painted paintings, and I'm constantly and everlastingly overwhelmed at the stupendous infinity of Nature. Wherever I turn and look, there I see creation. Art is creating…Art is the search for truth." Eyvind Earle passed away on July 20, 2000 at the age of 84.