Collector plates no longer have the exceptional value they did when they were being collected in the 1970's and 1980's. Unless they are dated before 1920 or 1930, the plates can fetch less than $10 apiece. The key to figuring out their value is to become familiar with notable manufacturers and desirable eras.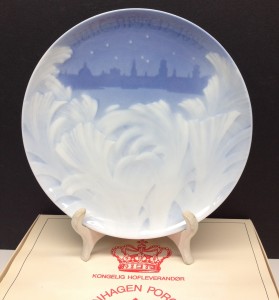 I started researching a collection of plates a client gave me to sell and noticed that a Bing & Grondahl plate dated 1895 titled 'Behind the Frozen Window' was selling on Ebay for thousands of dollars. I listed it and it sold for $2,500 (pictured). This plate held it's value because it was the first plate in Bing & Grondahl's series of Christmas plates.
Factors Affecting the Value of Plates
According to Antique Trader, some collector plates are regaining their value, in part because baby boomers are purchasing them for sentimental reasons. Look for these characteristics if you think you might have a treasure or two in your collection.
Date of Manufacture
Antique Trader notes that collector plates from the 1920s are some of the most valuable but only if they are in perfect condition. According to Terry Kovel, plates made after 1980 usually have no monetary value. Most collector plates from major manufacturers feature very detailed back stamps and usually include the year the plate was made.
Major Manufacturers Are Worth More
Bing & Grondahl – Plates from the 1800's to 1920's can sell for hundreds or thousands of dollars as noted above. I also sold a series of five Christmas plates from the 1930's for $140 and five Christmas plates from the 1950's for $70. A series of nine plates from the popular Mother's Day series dated 2000-2008 sold for $70.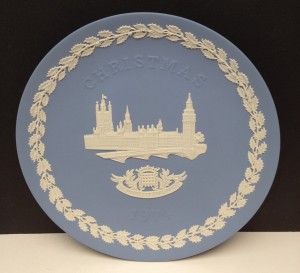 Wedgwood – Their popular blue and white plates don't hold their value as you would think. I have had a listing of five Christmas plates from 1970-1974 for sale on my Ebay store for several months for $50 with no buyers (1974 pictured).
Royal Doulton – According to AntiqueMarks.com, a Royal Doulton collector plate from 1927 with two fish is valued between $220 to $300. However, plates from the 1970's sell for about two to ten dollars.
Royal Copenhagen – Noted for their Christmas plates, Royal Copenhagen is another major manufacturer with dramatic variation in value. A 1908 Christmas plate, 'Madonna & Child,' can sell for over $3,700, while I sold a 1970 Christmas plate for $10. Four new in the box Christmas plates from 2005-2008 fetched $79, with free shipping.
Mass producers of plates like Bradford Exchange and Franklin Mint are selling for less than $10 these days on Ebay.
If you're interested in buying collector plates I currently have for sale, click here. To sell your collector plates, contact me.